Thursday, November 27th, at 6p.m.
Thanksgiving Dinner Potluck in the Lodge
Join us for a special evening and delicious dinner.  RSVP.
Saturday, November 29th, at 8 p.m.
Entendre Entendre

Entendre Entendre
is Raw Energy
Genre-less, Liquid, Lucid, Happy
Splattered with changes,
An Organic Un-orthadox Circuit Euphoria
Entendre Entendre Lends itself to all types of sound
Striving to find Harmony In every Musical Perspective
Entendre Entendre purpose is to find elegance in Chaos. Taking you down a Psychedelic Wormhole to experience all Genres like you never have have before.  Experimental, hip-hip hop, rock, improv jazz, progressive Portland. 
Friday, December 5th, 6-9 p.m.
Sou'wester Lodge Holiday Party
Our Resort will be open, but due to the party, we will not be able to sell beer or wine from 6 -9 p.m.
December 20th, Saturday
Painting Workshop with Kristen Flemington
…more details soon
December 20th, Saturday @ 8pm
Nick Jaina performs his one-man show
Recently back from New Orleans, we have a rare opportunity to witness this thought-provoking performance from one of our favorite artists-in-residence and performers.
THE HOLE IN THE COFFIN
The Hole in the Coffin is a 50-minute story told through words and music by Nick Jaina about a strange experience he had in New Orleans of going to the funeral of his hero and ending up inside the coffin with a gun and a bible. He tries to unravel the information he is given, reconnect with his former love, and piece together the perfect love song.
December 24th (Wednesday) at 6 p.m.
Christmas Eve Dinner & White Elephant Gift Exchange
Bring your favorite dish for potluck dinner and a wrapped white elephant gift of $20 or less.
December 31st (Wednesday) 8 pm
New Year's Eve Dance Party
more details soon!
Saturday, January 10th @ 8pm
Tobias Country Band
Saturday, January 17th @ 8pm
Three for Silver
performs 22nd century folk songs
Past Events:
3rd Annual Rollin Oldies Vintage Travel Trailer Rally!.
join us again for a weekend of fun and surprises!. with an open house Saturday 12-4, and a potluck saturday night, with live music and fun for all!.
check out awesome pictures from last years rally here
JULY 19th.
ART PARTY with Dawn Stenztel & Megan Mesloh
Printmaking and natural dying.
MUSIC -
RICHIE YOUNG
SHELLEY SHORT
DARREN HANLON
RICHIE YOUNG –
Ritchie Young (Loch Lomond) lives in Portland Or, USA. Young has toured nationally and internationally since 2005, playing his original take on slow pop music. His ability to switch from high-pitched fragility to alto thunder in the turn of a phrase, yet he knows the power of restraint intuitively, saving vocal tornadoes for emotional apexes buoyed by string swells and moving arrangements. Young has spent the majority of this year writing and recording music for Laika's (stop-motion animation studio) new film  Boxtrolls, due to theaters in Sept, 2014.


SHELLEY SHORT
Fresh from Australia!
A native of Portland, Oregon, songwriter and singer Shelley Short grew up among characters and artists in a wood-heated home full of books, records, and well-cooked meals. As Short recounts: "It was like growing up in a time machine; in some ways we lived like in 1876, chopping wood, growing our own food, wearing old clothes in a Victorian home and singing our own songs. Other times it seemed like we were living in 1955, driving around Cadillacs and Studebakers and listening to Jonny Ray and The Flamingos. And yet it all felt like growing up in a blurring movie made in 1963, full of these big personalities. As a kid I grew up so accustomed to falling asleep to the sound of talk and laughter that when I moved out, the silence got to me."

check out her newest video.
DARREN HANLON
Darren Hanlon is an Australian singer/songwriter who plays urban folk music. He has released five solo albums, three EPs and eight singles on Candle Records and Flippin Yeah industries, as well as several compilation tracks. After the dissolving of Candle Records he has started his own pseudo-label called Flippin Yeah Industries in 2008.
There have been eight video clips made of his songs "Happiness is a Chemical", "Hiccups", "A to Z", "Elbows", "The Unmade Bed","Fingertips & Mountaintops", "All These Things", "Electric Skeleton" and the latest "Butterfly Bones" starring Bob Ellis, Rhys Muldoon and Jessica Tovey.
Before becoming a solo artist in 1999, he was a member of the Simpletons, and contributed backing guitar and keyboards for the Lucksmiths, the Dearhunters, and Mick Thomas.
Darren is known for his engagement with his audiences, through his down-to-earth storytelling at live gigs as well as his often charming lyrics.[1] Additionally, he is known for his quirky videos, including I Wish That I Was Beautiful For You which starred Darren himself alongside Eli Wallach. He has toured with Billy Bragg, David Dondero, Tim Kasher, Violent Femmes, and The Magnetic Fields and has recently completed his latest album I Will Love You At All, released on 16 July 2010 in Australia (Flippin' Yeah) and 21 September in the United States (Yep Roc).

SOU'WESTER MUSIC CALENDAR
July & August 2014
*

All shows start around 8:30 p.m.
Ike Fonseca
Saturday, July 5, 2014
Born and raised in Portland, Oregon, Ike Fonseca has been engulfed in the Pacific Northwest music scene for almost 2 decades. Being a singer songwriter brought up on many different genres and influences, he has found his own brand of americana mixed with folk and rock. Ike has been described as "good time'n whiskey drinking music for all ages". Fonseca is currently in the process of working on a new studio solo album due out this spring.

_______________________
Esme Patterson (Paper Bird) w/ Paleo
Tuesday, July 8th , 2014
Esmé Patterson's songwriting is at the heart of the folk and roll explosion in Denver, CO. Her first album, All Princes, I, was released in November of 2012 and her sophomore album, Woman to Woman, a concept album of responses to famous songs about women (more in-depth explanation here, is out April 15th. She is a founding member of the Americana group Paper Bird.

Paleo AKA David Strackany is an America singer of folk music who is notable for writing a song every day for 365 days using a "half-size children's guitar" while living out of his car and being essentially homeless. He plays acoustic guitar and sings and in 2005 began touring the United States. He has a recording arrangement with an indie label named Partisan Records.
___________________
AU DUNES
Saturday, July 12, 2014
Formed by Portland, Oregon musician Greg Olin in 2011 as a more hard-edged side project to his long-running main band Graves, Au Dunes approaches the classic pop/rock template with a hypnotic lo-fi bend. Guitarist/lead vocalist Olin enlisted friends Neisha Dsouza on drums, Sam Farrell on bass, and collaborating songwriter Zac Barbery on second guitar and vocals and the band began practicing and playing around town. Early in their existence, Au Dunes released a cassette on Farrell's tape label curlycassettes, with plans for future 7″ releases on west coast labels Woolen Men and Rad Cloud.
Video of Au Dunes covering Black Winds: https://www.youtube.com/watch?feature=player_detailpage&v=p0er0ZC8-tE
__________________
AnnaPaul & the Bearded Lady

Saturday, July 19, 2014
Suspend time and spin it around you like a well-knit sweater. Imbue it with Lucky Strike smokiness and Ovaltine sweetness and then squeeze it through 1920s vintage instruments, vintage microphones, vintage countenance and inflection. You've got AnnaPaul and the Bearded Lady, "Music for the Neo-Depression".
AP&B was co-founded by multi-instrumentalists Paul Evans of Redbird on Alberta Street in Portland, OR and vocalist Anna Leander who supports the group instrumentally with trombone and melodica. Joey Appel provides Django-inspired rhythm guitar, laying down the pulse-pounding musical mortar. One of Portland's most talented young jazz musicians, Patrick Harry plays bass, and Revival Drum Shop owner Jose Medeles (the Breeders) plays drums for the group.
Penelope Meringue Leander is "The Bearded Lady" and the cutest miniature schnauzer with an affinity for pink dresses you've ever seen.
___________________
Tara Jane ONeil
Thursday, August 14, 2014
Tara Jane ONeil is a multi-instrumentalist, composer, and visual artist.  She creates melodic and experimental music under her own name and in collaboration with her brilliant friends. Her recordings and live performances range from solo songing to noise improvisations. TJO has composed and performed music and sound for films, theater and dance performances, and written large and small ensemble experimental architectures.
As a solo artist, TJO has released 7 albums internationally. She was a founding member of Rodan and several other bands, and has collaborated on recordings and stages with musical artists such as the groups Ida, Mirah, Jackie O MF, Mount Eerie, Papa M, Come, the vocalist Nikaido Kazumi, and many more. In addition to rock clubs, galleries and DIY spaces all around north America, Europe, and Japan, she has performed at All Tomorrow's Parties, the Centre de Pompidou, the Whitney Museum of American Art, TBA festival (portland), High Desert Test Sites and many many others. She has shown her visual art in galleries all over the northern hemisphere and  had four monographs of her visual art published.
____________________
Run on Sentence
Saturday, August 16, 2104
Based on the songs of Dustin Hamman, Run On Sentence involves a rotating cast of musicians and could easily be a one man show or a 12 piece extravaganza.
Dustin's musical tastes span many genres but have always been rooted in folk. He had an early fascination with American Indian singing and early punk rock… later he explored the blues and the origins of country, eventually gaining interest in early jazz, swing, and big band. During a short life in Florida he also discovered Latin rhythms and became intrigued by Flamenco and Classical Guitar.
Although band members come and go, William Joersz (double bass) has been a regular member and major influence on the music. Other Portland artists such as John Vecchiarelli, Nick Jaina, Loch Lomond, Heroes and Villains and Shoeshine Blue have donated band members to the project and have been tremendously influential.
________________________
Tele Novella
Wednesday, August 27, 2014
Tele Novella is a fresh strain of indie psych-pop out of Austin, TX with members of Voxtrot and Agent Ribbons. Their collaboration was forged in the white-hot embers of inspired happy accidents, furnishing an onslaught of rapid-fire creative output. Sturdy, uncrushable melodies and thoughtful lyrics lay the pavement in these songs, but it's the subtle vocal harmonies embroidered throughout each piece that really catch your ear. Tele Novella has been featured on SPIN, Impose, Consequence of Sound, KUTX, and Austin Town Hall, among others.

 Previous Shows:
May 24th – Lake
May 31st-2 year anniversary -private event
June 7th – Nick Jaina with Ryan Dubrowski
June 14th – The Hive Dwellers with The Panduhs
June 21st – Michael Hurley and the Croakers
July 5th – Gerle Haggard Band
______________________
Introducing:
JULY ARTIST-IN-RESIDENCE DAWN STETZEL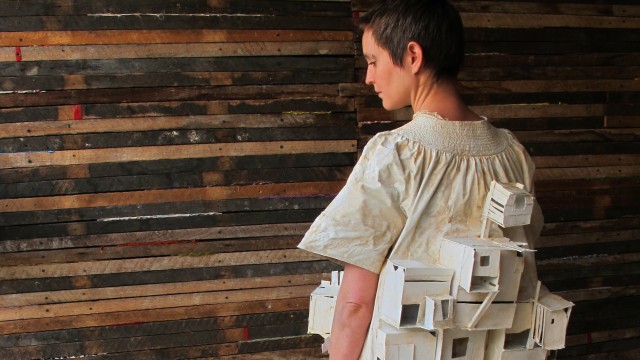 We are excited to announce Dawn Stetzel will be the Sou'Wester Artist-in-Residence for July 2014. Dawn grew up on a farm in Iowa and went to college at the University of Iowa.  She lived in NC for 12 years and then in MA for 3 years while completing her MFA at the University of Massachusetts at Dartmouth in New Bedford.  Dawn came to the coast of Oregon in 2008 as an Artist-In-Residence at the Sitka Center for Art and Ecology near Lincoln City, and she now happily calls the coast of Oregon her home.
Dawn Stetzel's most recent work, a sculptural and performance piece in progress, is a "Housetent" a small house-shaped tent with backpack straps, that can travel with the artist wherever she goes. As an object "Housetent" speaks to this question that Dawn asks, "Where do I live while I am searching for a place to live?" This question then points to her concept, which is Dawn's question, "How do I live while I am searching for how to live?" Dawn continually seeks ways to connect to her surroundings and her community. While at the Sou'wester Dawn will be seen biking, seeking the margins of places, and might be overheard saying "I could live there" or "I could live there" which might just be the tile of her next show. Dawn might create a cardboard shack to pull behind her bicycle and would love to finish her "Foraging Fashion" zine that she is eager to publish. Dawn's website is www.dawnstetzel.com or for specific updates during her Artist in Residence at The Sou'wester, check Dawn's blog at www.dawnstetzelsouwester.blogspot.com.
In addition to working on her own projects during the residency Dawn will also host a series of public art workshops called Art Parties: A Chance to Chat & Create! every Saturday at 3 p.m. and Wednesday at 5 p.m. in the lodge.
These are all adult geared events but parent guided kids are welcome. They are free and open to the public.
ART PARTIES: A CHANCE TO CHAT & CREATE!
Easy-Peasy Printmaking on Cards
Make a monoprint or grab a spud to carve and make prints on paper. Add some texture with the sewing machine; draw on paper with stitches! We will make a packet of cards to give as gifts, or anything else you come up with using these materials. (An idea might be to keep a packet of handmade cards on hand for giving…….as a gift at a dinner party, potluck, housewarming, visiting out-of-town friend, or all-purpose thank you gesture.) Make some cards to take home and an extra one to donate to the Sou'wester if you want…..we use handmade cards as thank you letters too!
(Make a monoprint or grab a spud to carve and make prints on paper. Add some texture with the sewing machine; draw on paper with stitches!  We will make a packet of cards to give as gifts.)
Materials List
Students Bring:
Please wear clothes you (and others) may get paint on. Don't forget a sack lunch if you are coming early!
Instructor Provides:
pre-cut blank, paper cards
envelopes
various acrylic paints
potatoes
tools for potato carving
plexi-glass plates for mono printing
brushes
sewing machine with free-form sewing foot (no sewing experience needed)
magazines for collage
lots of paper varieties for collage elements, colors, and textures
scissors
glue
Zines: The Art of the Tiny Book
Come make a zine, a tiny folded book!  Pronounced 'zeen', an abbreviation of fanzine or magazine. In a black and white format, use computer printed text, comics, handwritten text or cut and paste images to make your story or picture pages. Zines are usually photo-coped with a small circulation and freely distributed.  Make your own zine or add a page to a Sou'wester zine to be created, published and shared at the 2014 Portland Zine Symposium later in August! These tiny books offer the big opportunity to self-publish! Techniques will be shown to make a 6 page 4" x 2.5" zine from a single piece of 8.5" x 11" paper, but you may make a larger one if you prefer. Tiny books are not just for kids……why handout a business card if you can share a zine instead?
(Come make a zine, a tiny folded book!  Pronounced 'zeen', an abbreviation of fanzine or magazine. Use computer printed text, comics, handwritten text or cut and paste images to make your story or picture pages. These tiny books offer the big opportunity to self-publish!)
Clementine-Candles & Wish-Raft Water Launch
All are invited to a gathering to make candle wish boats to float on a nearby spot of water as a way to meaningfully great the 2014 Summer Season at The Sou'wester!
We will make eco-friendly-river-friendly candles out of clementine oranges and olive oil.
After making the candles we can write wishes, dreams, poems or other special thoughts on little bits of paper to be attached (if you want) to a piece a driftwood that will also be the raft for your home-made candle.
At sunset we will walk to a nearby spot of water with our boats/rafts, and light the candles and launch them together.
If you wish to keep your candles/rafts to launch on another body of water, or use this candle item in any other fashion, please do so.
Materials List
Students Bring:
a piece of driftwood, bark, or other natural material to use as raft to float your clementine candle

thoughts, wishes, dreams for a happy summer or other special thought or poem
flashlight

Instructor Provides:
clementines
olive oil
typewriter
paper
pens/pencils
____________________
Yoga with Jude

every Tuesday at 8 p.m. and Wednesday at 10 a.m. starting July 2014